By Wednesday Lupypciw - Nicole Burisch - Diana Sherlock
No:
Contribution Type:
Keywords:
Abstract
Wednesday Lupypciw's (2014) video and textile installation continues her research into feminism, labour and economy as it relates to both textile practices and technology. Lupypciw's characters inhabit a fractured video narrative that tracks the invention of the internet in what she calls her "imaginary sex dungeon." With a cheeky humour, the work mocks fetishistic labour-intensive practices in both craft and emerging media. It proposes an alternate reality in which queer feminist desire is the impetus for creating, controlling, and enjoying online spaces and interactions. 
Wednesday Lupypciw
BED OF INTIMACY (2014)
16:00 single-channel, Standard Definition video with ambient sound displayed as video installation with two synced monitors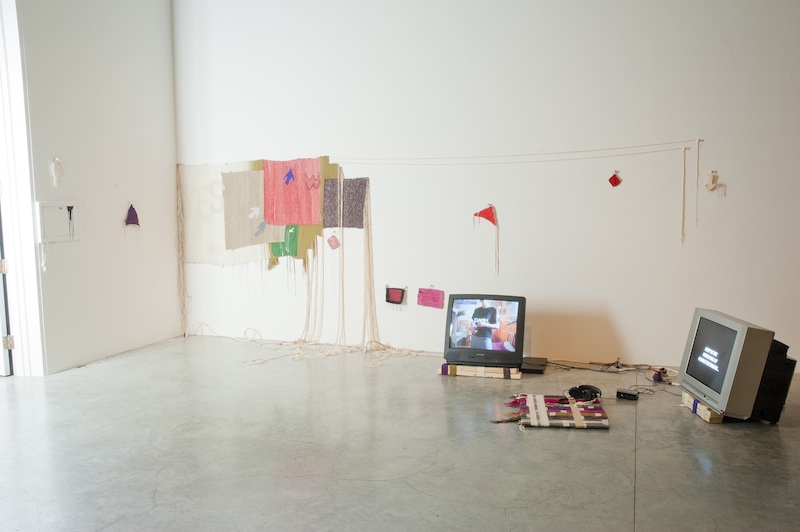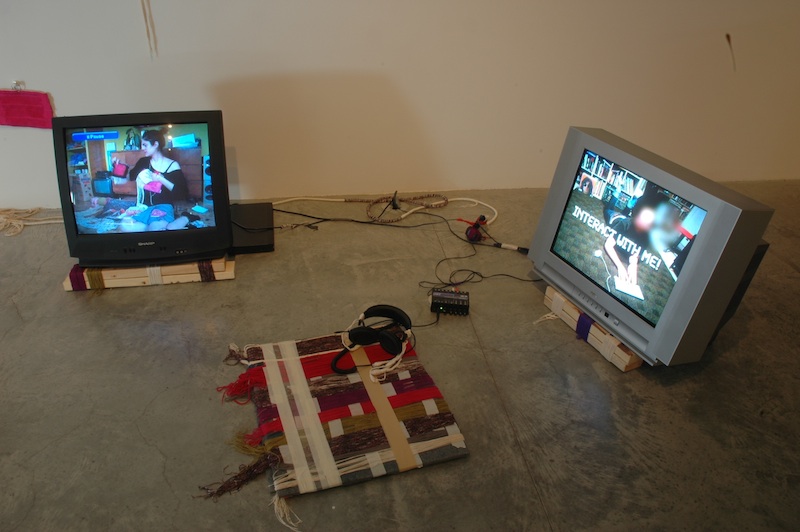 My Sex Website (2014)
Tapestry installation with cotton, wool, silk, lurex, leather, wood and paint. 
8' x 15' installed (variable)
photo credit: Stacey Watson
This work is included in a group exhibition titled In the making, curated by Diana Sherlock, that investigates conceptual intersections between contemporary craft and emerging digital media. The works in this exhibition span a diverse range of disciplines—photography, performance, video and sound installation, drawing, sculpture, ceramics, jewelry and glass. Together they reflect the ongoing influence of technology on ways of making and ways of thinking about the contemporary context. In its title, In the making alludes to the ongoing process of invention in both handwork and emerging technologies. The exhibition assumes the centrality of the processes of making to art, craft and design. It posits that technology and ways of making are not merely tools or processes required to get the job done, but are an integral conceptual extension of the project that allow the artist to produce objects and ideas they would not have been able to produce otherwise.
When the exhibition was presented at the Illingworth Kerr Gallery in January 2014, Lupypciw's 16-minute video work was positioned at the entrance of the gallery, as part of a larger installation called My Sex Website (Figs. 1 and 2). The installation featured two TV monitors sitting on the floor alongside a hand-woven tapestry, and numerous fabric swatches hung from metal rings on the wall. Similar to Lupypciw's past video works (http://wednesdaylupypciw.com/video/), BED OF INTIMACY uses split screens, mismatched voiceovers, and outdated equipment to piece together a humorous, fantastical, and multilayered work that simultaneously features the artist as director, editor, and actor(s). In Lupypciw's hands, video is treated as a raw material to be shaped and manipulated. As with any other craft medium, video is employed here for its inherent material qualities, glitches, and idiosyncrasies. This materialized approach is extended into the narrative of the video itself, where the characters turn the camera on one another to co-create customized spaces to suit their particular desires and bodies. In a reversal of patriarchal structures of control enacted or enforced in online communities, Lupypciw's hands-on engagement with the medium works to undermine the power relations inherent in (online) surveillance.
In the video, a dominatrix struggles to find new and stimulating ways to please her client, and eventually enlists the help of her robot assistant to "build" the internet: an interconnected web of "sites" for her client to peruse. The work of building the sites and their connections is done laboriously by hand, using both basic and complex tools such as wrenches and looms. Each site or page is initially depicted as a hand-woven swatch of fabric (the same ones featured in the installation) – physical objects that can be handled, selected, and arranged at will. These very literal acts of making – alongside the woven objects that exist both within and outside of the video – make visible and tangible the labour and time involved in constructing online spaces.
By using the physical and tactile vocabulary of hand-making to address issues of online labour and authorship, Lupypciw links these ways of making together to argue for the internet as a (potential) site of female agency. If most current web content is still created by and for men, Lupypciw's cyber-women work against these traditionally gendered structures to build their own internet from scratch. Calling upon the feminist histories and politics of craft, these women are charged with creative autonomy and control over the processes, tools, and organization of the sites that they create and use. Here, crafting and craft labour become metaphors for the ways in which women and queers might not only invent, but also customize their own online spaces.
The characters in the video also reinforce the potential of these online spaces to be continuously adapted and improved by their users and creators. As the character of the client travels through the newly created web and visits each site in turn, he encounters a selection of men, dancing and posing provocatively—and embodying the content and style of each webpage. When he finally finds a "site" he likes, it is a space he declares as "safe" and where "the boundaries of our bodies collapse." Rather than a disconnected or disembodied relationship between web content and users, those watching and those being watched, Lupypciw's video ultimately argues for an optimistic and intimate view of a new feminist internet: a safe space for connection, communication, and desire. 
Wednesday Lupypciw is from Calgary, Alberta, where she pursues a video and performance art practice. To make money she is a part-time maid. She also maintains a concurrent practice in textiles—weaving, machine knitting, embroidery and crochet—but this is done mostly while procrastinating on other, larger projects. The performance art collective LIDS, or the Ladies Invitational Deadbeat Society is one of those projects. Other recent works have been exhibited at Nuit Blanche of Calgary (2014), La Centrale Galerie Powerhouse (Montréal, (2014), at the Feminist Art Gallery (FAG) and the FADO Performance Art Centre, (Toronto, (2013), and in the touring show They Made A Day A Day Here (Grande Prairie, Saskatoon, Winnipeg, 2013), curated by Amy Fung.
Nicole Burisch is a Canadian curator, critic, artist, and cultural worker. Much of her work has focused on contemporary craft and craft theory and she has researched, published, exhibited, and lectured on this topic in Canada and internationally. Her research (with Anthea Black) into curatorial strategies for politically engaged craft practices is included in The Craft Reader (Berg) and Extra/ordinary: Craft and Contemporary Art (Duke University Press). Burisch's writing has also been published by FUSE Magazine, Stride Gallery, the Richmond Art Gallery and in the Cahiers métiers d'art :: Craft Journal. She is one-third of the Ladies Invitational Deadbeat Society, a loosely knit group of purposefully lazy womenfolk whose activities make visible and politicize women's roles in the (arts) economy.
Diana Sherlock is a Canadian independent curator, writer and educator whose projects engage research and commissioning models that create opportunities for contemporary artists to produce new work in response to specific collections, contexts, histories and cultures of display. Recent projects in addition to In the making, include Folly: Château Mathieu at the Nickle Galleries, University of Calgary (Alberta). Since 1995, Sherlock has published over 50 texts in gallery catalogues and contemporary art journals including Canadian Art, FUSE Magazine, Blackflash, Ceramics Art and Perception (Sydney, Australia), Border Crossings, Artillery (Los Angeles/New York), CMagazine and The Calgary Herald. Sherlock was the Curator-in-Residence at the Alberta College of Art + Design (2011/2012), where she teaches critical theory and professional practice in the School of Critical and Creative Studies.