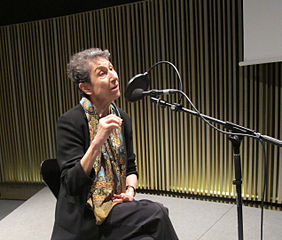 Revolution at Point Zero: A Book Launch and Discussion with Silvia Federici, on April 4, 2013. Co-presented by QPIRG Concordia, QPIRG McGill and Kersplebedeb Publishing at Bâtiment Faubourg (Concordia University).
Review by Deanna Radford with files from Candace Mooers.
Silvia Federici giving a speech at MACBA museum in Barcelona May 2012. Image by Kippelboy, from Wikimedia Commons.